I am calling on our nation's Governors and state education chiefs to develop standards and assessments that don't simply measure whether students can fill in a bubble on a test, but whether they possess 21st century skills like problem-solving & critical thinking, entrepreneurship and creativity.
— president barack obama
DATES and REVIEWS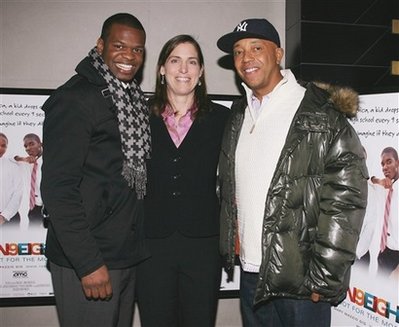 NEW- UPCOMING SCREENING;
MAY 28th, 2013 – Valparaiso Library, Valparaiso, Indiana 12 noon.
TEN9EIGHT opened in eight cities with AMC Theatres (NY, LA, Boston, Chicago, Washington DC, Atlanta, Miami, KC), and was broadcast SUPERBOWL SUNDAY on BET. Scholastic recently released a companion book to the film, Teens Blast Off. Russell Simmons and Larry Wilmore (Senior Black Correspondent for the Daily Show) opened the film in New York. Deputy Secretary of the Department of Commerce, Dennis Hightower; Gerry Lopez (CEO of AMC Theatres); and Chris Gardner (profiled in the "Pursuit of Happyness") opened the film in Washington DC at a special event at the Smithsonian. The film was also screened during the White House Summit on Entrepreneurship as a special presentation hosted by the Department of Education and the Library of Congress.
Named as one of the 10 best documentary films on education by Take Part and selected as a finalist for VH1's DO-SOMETHING Award, the film was broadcast on BET/Viacom and on WORLD CHANNEL. TEN9EIGHT also opened during Global Entrepreneurship Week, screening at Wismar University (Germany); High Colleges of Technology (United Arab Emirates – shown across 17 campuses); Chapman University (CA); University of Miami (FL); Middle Tennessee State University; University of Rochester; York College (PA); as well as at events in White House, TN; Grand Rapids, MI; Bentonville (AR); and Lansing (MI).
The DVD is now available by clicking here.
PRESS
"Obama should arrange for this movie to be shown in every classroom in America. It is the most inspirational, heartwarming film you will ever see. …"-Tom Friedman, The New York Times. Click here for full article.
"Forget the BLIND SIDE. See TEN9EIGHT. Blogging for the Huffington Post, Seth Bauer says that a documentary about "lost inner-city kids" is "a feel-much-better story," that he thinks could have a greater impact on improving African American self-actualizing than Bullock's film [The Blind Side]. That's because Ten9Eight tracks the inner-city high-school participants of a national competition set up by the Network for Teaching Entrepreneurship. As he puts it: "The movie calls for entrepreneurship on the part of all of us, because the economics of the film industry means that millions of high school kids–and their parents–whose personal prospects could be radically changed simply by viewing the film may never get to see it. Take a look for yourself, and, if you see a way to get Ten9Eight shown in the communities where it may make the most difference, think like the students in the movie: don't let the opportunity pass." –Carl Franzen, The Atlantic. Click here for full article.
"I found this film inspiring… should be compulsory viewing in high schools around the country… what I loved about it was the way the stories are told and how moving it was…" –LA film critic, Lael Lowenstein, Variety, speaking on NPR.
"You have to see this film. You'll be blown away. I guarantee it." –Tom Friedman speaking to Don Imus on IMUS IN THE MORNING.
"Mary Mazzio, a filmmaker who had already produced one movie about entrepreneurs, decided to make another on the subject last year, this one inspired by the work of a nonprofit group focused on at-risk youths…"-Mickey Meece, The New York Times. Click here for full article.
TEN9EIGHT named as one of the top "10 Educational Documentaries You Don't Want to Miss" by Participant Media.
"From the high school athlete who creates photochromatic face shields for football players to the 15-year-old animal lover who decides to sell vegetarian dog treats after learning that red meat may cause canine cancer, these budding business owners are both clever and heartbreakingly earnest. The film's boldest entrepreneurial moves, however, happened off camera, where filmmaker Mazzio explored unorthodox ways to bring her movie to the masses…" –Patricia Gray, Fortune Small Business. Click here for full article.
"As the child of drug addicts, Rodney Walker's upbringing in a series of Chicago foster homes was not auspicious. Yet now, aged 20, he has been one of the top finalists in a business plan competition, has won a full scholarship to Morehouse College in Atlanta, and is the narrator of Ten9Eight – Shoot for the Moon, a documentary film that is about to go on release in a mainstream US cinema chain." –Pamela Ryckman, The Financial Times. Click here for full article.
"Why You Should Watch Mary Mazzio's New Documentary… The big takeaway from Mary Mazzio's powerful new documentary, Ten9Eight, is clear: entrepreneurship skills training for at-risk teens will increase the odds they stay in school."- Nick Leiber, Business Week. Click here for full article.
"If there are, in low-income areas across America, what film director Mary Mazzio calls "hundreds of thousands of dry seeds that just need a few drops of water," then her latest project has brought some welcome rain. Her documentary, Ten9Eight, Shoot For The Moon, is a gripping account of what happens when kids facing major obstacles enroll in a course at school that teaches them about entrepreneurship… It's immensely gratifying to watch." Nancy Colasurdo, FoxBusiness.com. Click here for the article.
"very well made piece…If every teenager were as charming, smart, funny and well-spoken as these, the world would be a better place. The film's message is that any teenager, regardless of circumstances, can learn how to start a successful business, and for 84 minutes it's pleasant to think that might be so." –NY film critic, Mike Hale, New York Times. Click here for full review.
"The Washington screening of director Mary Mazzio's inspirational film, Ten9Eight was held on Monday at the Smithsonian Museum of American Art's Portrait Gallery, followed by a reception at the Hotel Monaco…" –The Hill. Click here for full article.
Meg Oliver and ABC News on ABCNews Now ran this coverage.
"A great new documentary…"- JJ Ramberg, Your Business – MSNBC.

Liz Clayman and David Asman interview Mary Mazzio on Fox Business News Click here for this coverage.
"it was especially satisfying to see business portrayed as rewarding for both the spirit and the wallet in a new documentary called "Ten Nine Eight" about an American idol-style competition with business leaders as coaches and judges…it gives us hope that the next generation of leaders will learn from our mistakes to restore confidence and pride in American business –Nell Minow, PBS Nightly News Report.
Julia Boorstin of CNBC covers TEN9EIGHT on CNBC. Click here for the piece.
Mary Mazzio and Rahfeal Gordon on NPR in NYC (WNYC) with Brian Lehrer. Click here to listen.
"Sandra Bullock's new movie, The Blind Side, is a feel-good story… Last night, I saw a movie that presents a feel-better story of kids from similar backgrounds. A feel-much-better story." –Seth Bauer, The Huffington Post. Click here for the article.
"Ten9Eight: Shoot for the Moon achieves lift-off. Mazzio… feels the beating heart of the striver – and, as a result, Ten9Eight: Shoot for the Moon never drags, even as it offers an important message to audiences"- NY film critic, Marshall Fine, Huffington Post. Click here for full review.
"a skillful and engrossing documentary" – Olu Alemoru, Los Angeles Wave Newspapers.
"TEN9EIGHT: The year's best documentary" – enterra.com. 
"There is an urgency illustrated with this film that's balanced with a raw truth telling. This balance really makes the film stand out. It's clear within 12 minutes that this isn't some hokey motivational video. These are real people…These are the kids we keep hearing we need more of. These are the kids that normally DON'T have documentaries done about them… I thought about when the last time was I'd seen a documentary that flowed like this, and I was lead back to the same director — Mary Mazzio."- Daryle Lockhart, The Black Box Office. 
PBS Nightly Business Report covers TEN9EIGHT and Jessica Cervantes. SPOILER ALERT: This piece reveals the winner of the competition – do not watch if you intend to view the film. Click here for the piece.
"There are very few positive films out there about bright teenagers doing good things with their lives, and fewer still that feature hip hop dance, slam poetry, Popsycakes and (very briefly) the Washington Redskin cheerleaders. So if you live in NYC, LA, Boston, Washington DC, Kansas City, Miami, Atlanta or Chicago, go check it out!"- Laura Vanderkam, USA Today Educational Reporter. Click here for full review.
"1.2 million kids drop out of school—or, one every nine seconds. It's a shamefully high number, which is why filmmaker Mary Mazzio focused her lens on the Network for Teaching Entrepreneurship program in her new uplifting new documentary Ten9Eight: Shoot for the Moon… Her film, which opens today, offers a dynamic picture of inner-city life" – Siobhan O'Connor, GOOD Magazine. Click here for full review.
"Probably one of the best docs I have ever seen…" – tweeted by FilmSnobbery.com.
"Mazzio's lens captures the hopes and fears, but also the tenacity and drive of these young people…" –Penelope Poulou, Voice of America. Click here for the story.
"You might think that a Needham High School grad with an Olympic pedigree would not have much in common with a group of teenagers from the nation's poorest cities. But filmmaker Mary Mazzio says she has always understood the underdog, and her new film, "Ten9Eight,'' proves it." – Geoff Edgers, The Boston Globe. Click here for full article.
"Two excellent documentaries are opening this week… TEN9EIGHT, Mary Mazzio's compelling documentary about inner city teens who are trying to win the
Network for Teaching Entrepreneurship's business plan competition… The kids are terrific. Really, they're all winners, and so's the film…"-Jennifer Merin, About.com. 
"If this film inspires even one more child to stay in school and realize their dreams, then we have all won." – Toluse Olorunnipa, The Miami Herald.
"It is one thing to dream of being a pro football player. It is another to start a business making a product, such as one contestant's polarized football helmet visors, that football players need. We'd all be better off if kids learned that the latter is more likely to get you on the field."-Laura Vanderkam, AOL News.
"With a lack of available distributors to handle the spate of indie films seeking theatrical release, some filmmakers are taking matters into their own hands. Doc director Mary Mazzio went directly to a theater chain. Now her movie is playing in eight cities." –Anne Thompson, IndieWire. 
"For filmmaker Mary Mazzio, it's always been about beating the odds. And as she has shown numerous times in her life, it has less to do with talent than with desire and hustle." Marshall Fine, HuffingtonPost.com. Click here for the article. Also see: this article.
"Saw screening of docu @ten9eight last nite by the amazing @marymazzio. Hardship teen entrepreneurs – great story, and very moving…" – Bob Cohn, editorial director, TheAtlantic.com
"Mazzio's documentary — which was both entertaining and poignant — should be required viewing for all high school students…" –Lisa VanderPool Click here for full article.
"A new documentary, which ought to be screened in every high school, tells fascinating stories of several of our best and brightest young men and women in low-income neighborhoods…" –Suzanne Fields, The Washington Times Click here for full article.
"Ten9Eight: Shoot for the Moon is the perfect antidote to depression — mental or economic. It is a simply marvelous documentary about what happens when you create possibilities for young people.."- Curt Schleier, Film Soundoff. Click here for full review.
"Ten9Eight: Shoot for the Moon is an undeniable crowd pleaser full of inspirational stories…[it] will win over your heart as these amazing kids blow your mind with their ideas, presentations and entrepreneurial spirit. 3 WAFFLES (out of 4). – Willie Waffle – WaffleMovies.com. Click here for full review.
"It's an engaging film that will keep you on the edge of your seat…"- Denise O'Berry – AllBusiness.com .
Drew Toal, Time Out New York . Click here for full review.
"Mary Mazzio's documentary Ten9Eight follows several high school teens as they compete in a nationwide business competition…"-Tamara Schweitzer, INC.com. Click here for full article.
"Documentary Moves Crowd to Tears. –Anne Schroeder Mullins & Patrick Gavin, Politico. Click here for full article.
"Mary Mazzio followed several teens who beat the odds and blast urban stereotypes…" –Tenley Woodman, The Boston Herald. Click here for full article.
"Raving about Ten9Eight this morning. Terrific film on teen entrepreneurs by @MaryMazzio https://www.ten9eight.com…" – Marci Albohrer, Yahoo.com.
"This film is THE cinematic rendering of the American dream.-Young Entrepreneur Foundation. Click here for full article.
"This film will show other kids from all places that there is power in being an entrepreneur, and what that can do. And how that entrepreneurial power can influence education. It stresses building a business and how that can effect a future (quoting Rodney Walker, narrator of the film)" –Patrick McDonald, HollywoodChicago.com. Click here for full article.
"Mazzio shrewdly makes her narrator one of the movie's heartwarming subjects: charming 18-year-old Rodney Walker." – LA Times.
"It's certainly inspiring to see teens from across the U.S. defying statistics and demonstrating ambition for the future." – METROMIX Chicago.
"This is a documentary you have GOT to see… all [her] films are brilliant…" –Jim Braude, Broadside – NECN. Click here for segment.
"New Movie Looks at Triumph and Tragedy of America's Youngest Entrepreneurs"- Geoff Williams, AOL Small Business. Click here for full article.
"Fueled by nonstop music and timed to the attention span of your average 15-year-old (a shot that lasts as long as 10 seconds is a luxury here)…It's all very uplifting. It might even move some youngsters to start their own businesses…" – Kansas City Star.
"Documentarian Mary Mazzio's setup is a Bravo exec's dream: 24,000 students from around the country compete annually in the Network for Teaching Entrepreneurship's business plan competition, and, after a heartbreaking elimination process, the winner walks away with $10,000." – Washington Post.
"The stories of these young entrepreneurs will have you fighting back tears, laughing, and wishing that their products were available near you." –Lizette Espinosa, MyLatinitas.com. Click here for full review.
"You look at a film like this and you see the kids and you have to ask yourself, am I doing enough?" –Nikki Schwab and Tara Palmeri, The Washington Examiner. Click here for segment.
RD Sahl, anchor of NECN and Mary Mazzio on Business Day.
"Mazzio's new film, TEN9EIGHT, is in a sense a culmination of her aspirations as a documentary filmmaker and as a business woman…" – Lisa vander Pool, The Boston Business Journal. Click here for full article.
"TEN9EIGHT has all the ingredients of reality television plus another vital one – – reality… the film avoids sentimentality by shifting form the content story-line to hip-hop dance sequences, slam poet performances and excerpts from the students' own video diaries. The message was clear. It's cool to be in business…"- Marcy Albohrer, Yahoo!. Click here for full review.
"How to succeed in business…" – Laura Viera, Chicago Tribune. 
"Young entrepreneurs are coming to an AMC theater near you and, this time, they are the stars…Jason DeRay, Fresh Inc.. Click here for blog.
Click here for coverage by Lisa Van der Pool of the Boston Business Journal on NECN. Thanks also to Mike Nikitas and NECN for this coverage.
"The documentary chronicles the inspirational stories of several teens from low-income communities, many of whom are very potential dropout risks… or worse"- KStreetKate.com. Click here for full article.
"Ten9Eight," a film about teens who compete in a business plan competition and gain new hope about what they can achieve, opens Friday in eight cities nationally…"-Crain's Chicago. 
"Miss Van Sustern and other bigwigs from politics, business and media gathered at the National Portrait Gallery for a pre-reception and screening of "Ten9eight: Shoot for the Moon," a documentary from director Mary Mazzio about inner-city youngsters turning into viable entrepreneurs thanks to a contest run by the Network for Teaching Entrepreneurship…-Stephanie Green and Elizabeth Glover, The Washington Times. Click here for full article.
"It's the human stories that make Mazzio's documentary engaging…" – Tenley Woodman, Boston Herald. Click here for full review.
"Spellbound with spreadsheets." – Boston Phoenix.
"uplifting" – TimeOut Chicago.
"Boston Celtics cheese Wyc Grousbeck had to TiVo last night's Celtics-Spurs showdown because he was due at Babson College to introduce his friend, filmmaker Mary Mazzio, at a screening of her documentary "TEN9EIGHT." The film chronicles the stories of several inner-city kids from Harlem to Compton as they compete in a nationwide business-plan contest that ultimately changes their lives. – Inside Track, Boston Herald. Click here for article.
"Mary Mazzio has created yet another inspiring film…" Alex Monroe, GetYourBizSavvy.com. Click here for full review.
"After the credits began to roll, I felt a sense of motivation. Ten9Eight gives viewers at home hope-hope that doing anything is possible… as Ten9Eight demonstrates, if you have the perseverance but more importantly the proper education-anyone can achieve a business or dream." –Geordae, Bizzom.com. Click here for full review.
"I can personally attest to how delicious and easy to eat Popsycakes are." –Nancy Colasurdo, Fox Business.com. Click here for article on "meaningful gifts.".
"Capitalism porn" – AV Club.
FEEDBACK
"A wonderful inspirational film. I want to thank Mary Mazzio… it is remarkable…"–US Secretary of Education, Arne Duncan
"I was blown away." –Tom Friedman, author of THE WORLD IS FLAT
"We are humbled by your work and proud to be your partner…" – Gerry Lopez, CEO of AMC Theatres
"Mary's work is important for humanity…" – Russell Simmons, founder – DefJam
"All of us at the Library commend those who have had a role in making this film – which is, in essence, an expression of hope in and encouragement to a rising generation of Americans. We look forward to adding this film to the Library of Congress collections so that generations from now people will continue to see, to learn from, and to be inspired by your work…" –Robert Dizard, Library of Congress
"incredible… I was so moved…" – Jim Shelton, Assistant Deputy Secretary for Innovation and Improvement
"This is the best Documentary I have ever seen…"–Marshall Crayton, 9th grader
"Stunning… it's impossible not to be touched by this riveting chronicle."–Steven Brill, founder of Brill's Content, Court TV, American Lawyer
"Being that it was a documentary I was thinking that we were going to the Magic Johnson theater to be bored, but this movie had me hooked in the first five minutes of watching it. Seeing youth succeed and watching them bypass challenging obstacles showed me that their is no excuse that I can give…Ten9Eight was, should be, an inspiration to all youth and even adults in the world." – Imani Bligen, high school student, Baltimore
"This is the best movie I have ever seen. Awesome. I brought a group of at-risk kids to see your film – and they were riveted. I have been doing this for 43 years and I have never seen anything like it…" – Wini Jackson, child advocate, LA
"It is an exceptional film! You should be extremely proud of this work… it is film like this that makes all of us want to do more to make a difference. " – –Terre Jones, President -Wolf Trap Foundation for the Performing Arts
"I also had the pleasure of receiving a sneak peak of TEN9EIGHT and it was spectacular. It really brought attention to the dropout rates and statistics of young students living in low income areas and the expectancy of such students. At the same time it brought forth something else that is can not become a statistic because it is immeasurable.. hope. Hope for students who live in these rural areas and are not expected to succeed, by offering to them students who come from the same place as them who are on the road to success. This film could not come at a better time when so many people are in need of hope now more than ever, with today's economic hardships. What Mary Mazzio and her team did was amazing and I am glad that these stories will finally be heard." – Mac Harlis, college student – Ft. Lauderdale
"Incredibly moving… your film will inspire everyone who sees it."–Sherry Lansing, former head of Paramount Pictures
"You showed me that even kids with a background full of drugs, violence, and poverty can have a business of their own. This movie made me laugh and almost made me cry…this movie gets an "A +" from me." – Byron Purnell, high school sophomore
"I love the film… Thank you for translating the power of youth entrepreneurship so beautifully and powerfully." –Peter Reiling, The Aspen Institute
This message was sent to one of the students profiled in the film: "dear jessica, i go to miami southridge senior high and i saw your movie and i was real inspired. u should b so proud of yourself. you give me hope :)" – Victor
"Just saw "Ten9Eight". Absolutely delicious." –Peter Georgescu, Chairman Emeritus, Young and Rubicam
"Terrific." –Joel Klein, Chancellor- New York City Schools
"Fantastic…"–Kitty Boone, The Aspen Institute
"Wonderful."–Charles Hiteshew, Executive VP- America's Promise Alliance
"Mary Mazzio is a great friend of mine and a wonderful filmmaker.. we were blown away by the quality of the kids… it gives me great hope…" –Wyc Grousbeck, Owner of the Boston Celtics and a judge at the business plan competition
"Absolutely genius!" – Harry Jefferson, college student – New York
"You have created a masterpiece… Having worked with young entrepreneurs for 17 years, I'm in awe…" – –Jennifer Kushell, New York Times best-selling author and founder of YSN
"This may be the single greatest cinematic affirmation of the human spirit since Frank Capra." – Jim Kucher, Merrick School of Business-University of Baltimore
Tweeted by @blaqbusiness: "#Ten9Eight….. @marymazzio The best documentary ever! One of my top 5 favorite films! :)"
"Words can't even describe how inspired I was by this film!!! I won't even admit how many times I was about to cry while watching it. These kids came from nothing and turned their lives around all through creating their own businesses. Become a fan of TEN9EIGHT and watch the trailer!! Trust you will be inspired from that alone :) –Tocarra Lanett, Washington Redskins Cheerleader.
""I had the pleasure of viewing Ten9Eight at the Aspen Ideas Festival, and was wildly impressed with the story of these young entrepreneurs and the gorgeous portrayal from the director Mary Mazzio. My "hat is off" to Mary for telling these stories of hope and inspiration, and to all of the amazing young people who defy odds to live the entrepreneurial dream. –Debbie Failla Copito
"We cannot remember ever smiling and choking up through an entire "documentary" film. You have and will change lives." –Richard Jacobs, artist.
"Although I usually don't do this, after watching the premier screening of TEN9EIGHT last night, I felt compelled to encourage all of you to watch one of the most inspiring movies I have ever seen—TEN9EIGHT: Shoot for the Moon." –Ron Reuven, CEO of Reuven Enterprises
"WOW!!!! TEN9EIGHT made me laugh, cry and smile. I left truly inspired. Congratulations a million times! You really hit this one out of the park!" –Anabel Dela Cerna.
"I had an amazing time today at the TEN9EIGHT preview with over 400 students city wide. I have never seen so many smiles, tears and laughter from our students. This was an experience of a lifetime…" – Chris Brignolle – Miami
"I've told so many people about it. They are dying to see it. I believe it will inspire millions. Please feel free to email me back. –Winston Williams – YearUp Student
"the most inspiring stories you'll ever see/hear–and they're all true." – Jim Ostroff, Associate Editor, Kiplinger.
"I know that this film is truly going to make a difference for a lot of lost teens out there. I would love to be apart of that." – Ashley Summers, YearUp.
"What can I say? The film was phenomenal. I am somewhat speechless…. Thank you for sharing with us the lives of students who felt they could not achieve, yet found the light at the end of the tunnel. I found myself reflecting back on my childhood living in the projects…" – Chris Baccus, middle school teacher, LA
"incredible film!!! Ten9eight is a moving and beautiful testament to the human spirit and I loved every minute of it!!" – Meredith Starr
"Mary Mazzio and her supporters… have given America a roadmap for the future…" – Richard James – Billtown Film Festival
"You are my new hero." –Mark Starr, Newsweek
"You just put everything that's on TV for this generation in check with that documentary. I hope you know that…" –VikingSweetie (via twitter)
"Now if that documentary wasn't genius, I don't know what is." –CI Mr. Bounce (via twitter)
"It will make you laugh, cry and smile — and, most importantly, it will inspire you." –Jimmy Lynn.
"congratulations on your great work and for your vision to to help kids to see there are avenues to success and to inspire adults to help make that happen for all kids."- John Brackett, Superindent of Schools, Sudbury, MA
"a wonderful and inspiring film…" –Rick Butler, Production Designer.
"It does a very good job at making the toughest guy in the room shed a tear…" Jonathan Ortmans, Orlando Sentinal .
"@marymazzio I more than loved the film. Very positive and inspirational. My students truly enjoyed it." –Brandon Frame, Teaching Fellow – The Fessenden School.
"Great job. At the 11AM – there was a high school group… everyone clapped at the end! Congratulations!" – Cassie Fierenze
"I watched Ten9Eight last night and was so happy afterwards. It is so full of positive and encouraging stories, one cannot help but feel uplifted." – Victor Sequiera, Texas
"The documentary was so moving… having the chance to see a close-up of other youths lives just like me inspires me to play off of their energy mixed with my own and continue to strive and push forward and to achieve the goals I've set for my business, myself and life in general." – Ippy Amatul-Wadud, student
"LOVED it!!" –Terri Lowell
"thank you for making this movie! so refreshing to hear positive stories of young people doing good things…very moving. Well done." –Brian Stout, Washington DC
"I laughed, I cried, and then stood and cheered and today I wonder "so what can I do now?"-John Zarba, Staples
"Saw the movie with my students today. AWESOME job! We were all pulling for Rodney!" – Carol Feeney, middle school teacher, Boston
"The background of these students coupled with their obvious motivation and passion makes you cheer for every single one of the kids in this movie. I didn't want the film to end!" – Minal Damani, New York
"about 350 of our students were able to attend! They all loved the film and were cheering throughout." – Estelle Reyes, Los Angeles
"so poignant and captivating – each one of the kids was more charming than the next. My favorites by far were definitely William and Ja'Mal with their fogged up safety goggles and mountain dew chemistry set – their banter was priceless." – Katie Milmoe, New York
Click here for coverage from Voice of America.
"This movie has changed my whole perspective on school and what it can do for me…" –D'Domni Freeman, Rosedale Middle School, Kansas
"Brilliant. Watch it. –PJ Joseph, Southeast Asia
"Our Level One group is starting the afternoon watching clips from Ten9Eight- incredible documentary on young entrepreneurs by @marymazzio." –@ThePossibleProject (via twitter)
For more comments and notes, please see our Facebook Fan Page, TEN9EIGHT.